Craft & Create
28th January
@
10:00
–
16:00
Come along for a day of craft demonstrations and opportunities to try new challenges. Also a chance to purchase alpaca yarn and crafts. The event will be open to the public and light refreshments will be provided.
Hosted by EAG at Essex Young Farmers Club Centre, Little Waltham, between 10am and 4pm on Saturday 28th January.
Throughout the day our demonstrators and tutors will be creating products in their chosen way, including crochet, machine knitting, hand knitting, peg loom weaving, weaving, hand spinning, drop spindle spinning and more.
You will have the opportunity to chat with tutors and try any or all of the different disciplines. Start your crafting journey with a taster session, or discover new things about a craft that you already love!
Most of our demonstrators will be using alpaca fibre, but methods will be the same for alternative mediums.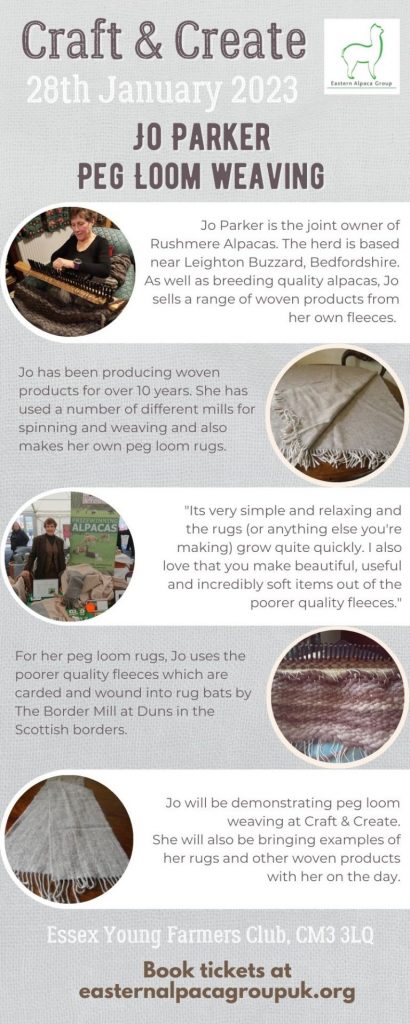 Are you a crafter? Would you be willing to share your experience with others? We would love to hear from anyone who would like to come along and share their skills. Demonstrators receive free entry to Craft & Create and we will keep you supplied with tea and cake!
Maybe you would like to display or sell your yarn or alpaca creations? We are also offering the opportunity for EAG members using british alpaca fibre to bring their alpaca yarn and crafts to sell. Table space will be provided and there is no additional fee. If you would like to bring your creations to display but don't wish to sell them, that is fine too!
If you would like to be one of our demonstrators, or would like to bring items for sale or display please contact either Kath Shearer (secretary@easternalpacagroupuk.org) or Emma Taylor (fibre@easternalpacagroupuk.org).
Tickets – £20 per adult (£15 EAG member), £5 per child (EAG children free). This includes light refreshments of tea and cake. Please feel free to bring a packed lunch if you are planning to stay for the whole day. Tickets can be purchased below:
Adult ticket £20 (£15 for EAG members with your discount code)
Child Ticket £5 (free for EAG members – no need to add to basket)
Eastern Alpaca Group
secretary@easternalpacagroupuk.org
Essex Young Farmers Club
Whitbreads Farm Lane, Little Waltham
Chelmsford
,
+ Google Map