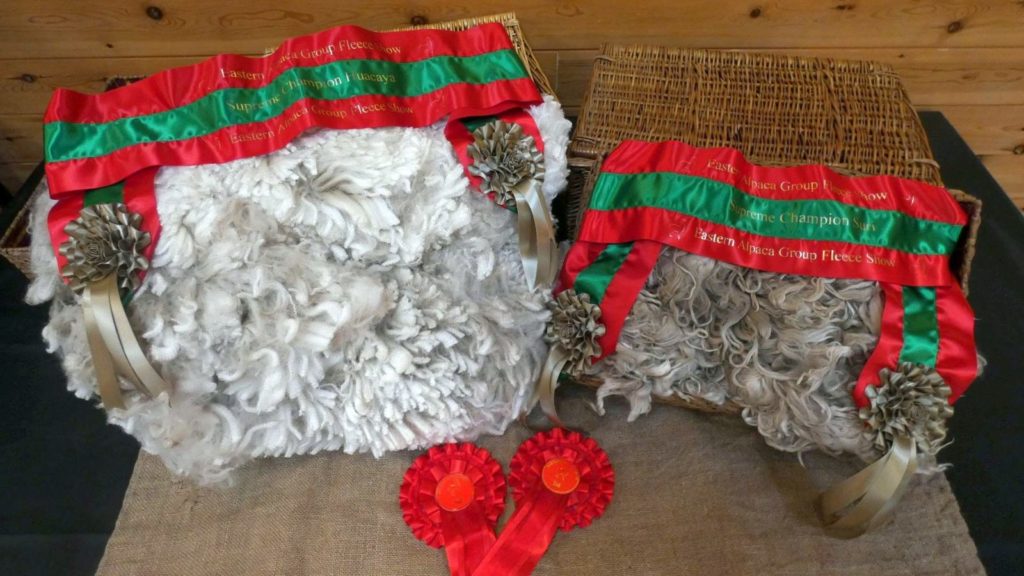 Each year Eastern Alpaca Group holds a fleece show that is open to all BAS registered alpacas.
In 2021 the Show was held in August at the Essex Young Farmers Centre. Mrs Julia Corrigan-Stuart took on the formidable task of judging 126 fleeces over the two days.
We are returning to Essex Young Farmers Centre in August 2022 and this year our judge will be Mr Roger Clarke.
Entries for the show normally open in May and EAG members receive a discount on entry fees.
A full range of age classes are offered: 6-12 months, 12-24 months, 24-48 months, 48-72 months and 72+ months – do please include those extra special veterans of 72+ months in your entries.
You have the opportunity to win Rosettes to 6th place, Champion and Reserve sashes in each colour, Supreme Champion, Best of British, Judges Choice and Best skirted. In addition there are special awards available for the best fleece from an EAG member and best fleece from a new exhibitor to fleece shows.
We are always looking for sponsors for the show so even if you don't have fleeces to enter there are still opportunities to support the Group.
Silver Senior Award
A special rosette is awarded to the oldest alpaca to achieve a high scoring fleece. Alpacas must be 72+ months to be eligible.
The prestigious Spirit of the Industry Trophy
The Spirit of the Industry Trophy, with a special rosette, will be awarded to the fleece that exemplifies those qualities that will most benefit the British Fibre Industry as it strives to maximise the potential of British alpaca fibre. It will only be awarded to fleeces of alpacas three years and older which demonstrate superiority in commercial traits. Traits that will be taken into consideration by the Judge will be, but not limited to, fineness, uniformity of all traits, staple length and weight. It may be awarded to either Suri or Huacaya, only if the fleece meets the criteria. Otherwise the Trophy will fo forward to the following year unawarded. The prestigious trophy was kindly donated by Alpaca Evolution and will be held by the winner for one year.